Constant Temp Water Bath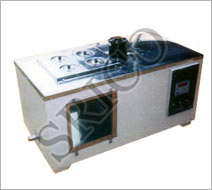 Kinematic Viscosity bath:
Full visibility, high precision, Meant primarily for viscosity determination stainless steel tank, Aluminium housing. Toughend glass windows, control of temperature by sensitive Digital temp. ind. Cum controller with P.D. action. Continously variable 500 watts heater for greater accuracy. Booster heaters cut off automatically when not required. Stirrer/Pump to provide gentle yet through agitation circulation of tank media.
TEMPERATURE RANGE 5`C ABOVE AMBINENT TO 120`C.
ACCURACY OF TEMPERATURE CONTROL +/- 0.1`C
Mains 230 V 50 HZ A.C.
S.NO
TYPE
WORKING SPACE
L X B X D
VOLUME
Ltrs
SUITABLE
for
POWER KW

1.

Stirrer

270 X 220 X 350

28

4 VM

2.00

2.

Pump

270 X 220 X 350

28

4 VM

2.00

3.

Stirrer

370 X 260 X 350

40

8 VM

2.50

4.

Pump

370 X 260 X 350

40

8 VM

2.50

5.

Stirrer

100 X 225 X 260

12

2 VM

1.50

6.

Pump

100 X 225 X 260

12

2 VM

1.50
FULL VISIBILITY CONSTANT TEMPERATURE BATH:
(WITH REFRIGERATION ATTACHMENT):
Full visibility high precision bath with a stainless steel tank housed in an aluminium housing with a stirring unit to keep the temperature uniform throught. A permanent heater continously variable from 0-50 watts is provided to achieve better accuracy. Temperature is raised by heaters immersed from the top. Temperature is controlled by Digital temp. ind. Cum controller. The complete unit is painted in attractive colour.
Pump cum stirrer unit can be provided instead of stirrer which will have an output of 4 lit. per minute and be used for circulation purpose. The above temperture bath will be mounted on sturdy angle iron frame. The refrigeration system consisting of hermatically sealed compressor using 134 A gas. Condensor will be provided to bring down the temperature. All the joints of system are specially treated to prevent refrigeration loss. The cooling of this system shall be evenly placed inside the inner chamber of the temperture bath.
TEMPERATURE RANGE: 10`C TO 120`C
ACCURACY OF TEMP. CONTROL : +/- 0.1`C
S.NO
TYPE
WORKING SPACE
L X B X D
VOLUME
Ltrs
SUITABLE
for
POWER KW

1.

Stirrer

270 X 220 X 350

28

4 VM

2.00

2.

Pump

270 X 220 X 350

28

4 VM

2.00

3.

Stirrer

370 X 260 X 350

40

8 VM

2.50

4.

Pump

370 X 260 X 350

40

8 VM

2.50

5.

Stirrer

100 X 225 X 260

12

2 VM

1.50

6.

Pump

100 X 225 X 260

12

2 VM

1.50
Accessories:
Viscometer holder

Lighting attachment

Viscometer tray for 2 viscometers

Viscometer tray for 4 viscometers

Viscometer tray for 8 viscometers