Deep Freezer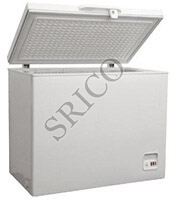 Srico Ultra Low Freezers:
After 40 year of innovation and leadership in design and manufacture of scientific instruments is pleased to offer the latest trace of refrigeration system to achieve and offer temperature as low as -80 C applying cascade refrigeration system.
The Ultra Low Freezers are specifically designed and suitable for research laboratories, biological and industrial application. The Ultra Low Freezers are high tech units incorporating revolutionary cooling system giving advantage to the users of rapid pull down of temperature.
Special features:
Low Temperature upto -80 C

Stainless Steel inner chamber.

Extremely efficient insulation to minimize temperature loss.

High tech solid state digital indicating cum controller.

Inside sliding acrylic doors to avoid temperature loss.

Constructed of double walls, the exterior is made of sheet steel, and finished with acrylic enamel paint. The inner chamber is made of stainless steel. The unit is mounted on castor wheels for ease of mobility.
Quick freezers:
The freezers are designed for quick freezing and storing of Blood Components, Serum, Vaccines, Biological and Medical Specimens, Clinical samples etc at low temperatures.
These freezers are with specially engineered superior insulating and specially designed refrigeration system. Constructed of double walls, the exterior is made of sheet steel and the interior of stainless steel having PUF insulation to minimize temperature loss.
Capillary controlled balanced hermatically sealed refrigeration is most economical, trouble free and exceptionally quiet. These Quick Freezers are available in horizontal or vertical versions with temperature upto -80 C.
Techincal Specifications
Model
Temperature Range
Internal Dimension
(W x D x H) in mm
Volume
(cu.ft.)
Litres

Horizondal

-20 C to -80 C

800 x 370 x 680

6

170

-20 C to -80 C

1200 x 370 x 680

9

265

-20 C to -80 C

1300 x 500 x 780

15

425

-20 C to -80 C

1900 x 500 x 680

23

650
Vertical

-20 C to -80 C

500 x 425 x 845

6

170

-20 C to -80 C

580 x 500 x 990

9

265

-20 C to -80 C

700 x 700 x 990

15

425

-20 C to -80 C

800 x 800 x 990

23

650
Optionals:
Voltage Stabliser

Digital Timer

Microprocessor based indicator cum printer

Digital Energy Meter