Muffle Furnace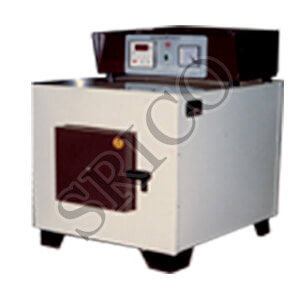 This is for maximum temp. up to 1000'C/1200'C and recommended regular working temperature not to exceed 930'C/110'C. Accuracy +/-5'C.
Construction:
The furnace has a sillimanite muffle/Refractory grooved chamber with a smooth internal surface. Imported "Kanthal A1" heating elements will be provided all around the heating chamber packed by good graded insulation. Ceramic Fibre work will be provided on all of the chamber to minimize heat less due to radiation. An over-heat cut-off fuse is provided is preventing the heating elements against accidental heating.
The furnace outer frame is fabricated from mild steel sheets and sections is finished with an attractive duco paint/powder coated paint. The furnace has a simple flap type of door with a spy hole for viewing the chamber.
Control Gear:
Consists of Energy Regulator, Pyrometer with Chrome/Alumel thermocouple, Two indicating lamps, etc., which will be mounted on top of the furnace itself. The furnace will be supplied complete with 2 meters of 3 core wire with 3 pin plug for operation on 220/230 volts, single phase, 50 c/s, AC mains.
Inner chamber size
Standard (W x L x H)
Rating 1000´C
Rating 1200´C

4 x 4 x 9"

1.75 KW

2.00 KW

5 x 5 x 10"

2.00 KW

3.00 KW

6 x 6 x 12"

3.30 KW

3.75 KW

8 x 8 x 12"

4.30 KW

5.00 KW
Optional: (The above equipment can be fitted with following accessories on extra cost)
1. Digital Temp. Indicating cum Controller with P.D. Action for best accuracy +/-1'C with Ammeter and indicator On/Off switch "Instead" of pyrometer and Energy Regulator.
2. Digital Temperature indicator.
3. Automatic Blind Controller.
4. Automatic Digital Timer for 999 mins./999 hrs.